Jennie fell in love with yoga in 1997 and has been teaching since 2005. Following her fascination for yoga, she has completed several teacher trainings and workshops of different styles and approaches over the years, including: Yoga Nidra, Anusara yoga, Ashtanga Vinyasa Yoga, Virya yoga, Vinyasa flow, Yin yoga, Meditation, Pranayama, Ayurvedic yoga massage, Nutrition and Anatomy.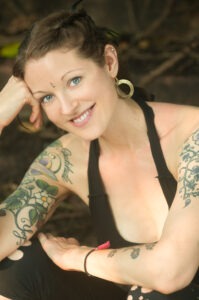 Over the years, her love of yoga has led her to in-depth studies with Josefin Wikström, Julie Martin, Josephine Selander, Heather Mason, John Friend, Paul Grilley, Melanie Cooper and more. She is also studying psychology: mainly CBT and ACT and how yoga effects mental health.
Right now (2020) she's studying psychiatry and social psychology and she recently completed a Yoga for PTSD course for Heather Mason at the Minded Institute, London.
For Jennie, teaching is about helping others to cultivate breath, awareness, strength and joy, and then taking these qualities into everyday life, away from the yoga mat. Her teaching style is warm, enthusiastic and encouraging, and contains an extensive knowledge of both biomechanics and fascia. She is passionate about how to make yoga safe, enjoyable, balancing for the nervous system and energizing.
[title size="2″ content_align="left" style_type="double solid" sep_color="" class="" id=""]Qualifications & Expertise[/title]
Jennie is E-RYT 500 (Experienced Yoga Teacher by Yoga Alliance, USA) and YACEP (Yoga Alliance Continuing Education Provider) and she is involved in teacher training programs and workshops worldwide. She's also a member of IAYT (International Association of Yoga Therapists).
Jennie worked full time as an Economist (in the IT and media sector) for many years, until her passion for yoga took over! In 2005 she founded YogaLila, nowadays YogaLeela (the Sanskrit and Hindi spelling) and since then she has worked full time both as a yoga teacher and as a business consultant.
From 2012 to 2015 she was the manager of Brahmani Yoga drop-in centre, the biggest drop in yoga studio in North Goa; founded by Julie Martin in 2003. Nowadays she studies psychology and  she works as a business consultant for Nordiska Yogainstitutet (www.nordiskyoga.se) She also runs retreats, workshops and teacher trainings in Ibiza, Italy, Portugal, Germany, Finland, UK, Greece, Norway and Sweden and she is teaching yoga at studios and at corporate events in Stockholm, Sweden. She's based in Goa, India.
She is also running very popular online courses with her colleagues Melanie Cooper, Josefin Wikström and Angelica Henriksson.
With her wide knowledge and long experience in both corporate and yoga worlds, Jennie has a unique ability to tune into the specific, individual needs of both groups; her career as an economist enables her to see group dynamics, broader perspectives, and help companies with setting up and accomplishing health care visions and goals.
[title size="2″ content_align="left" style_type="double solid" sep_color="" class="" id=""]Education[/title]
University courses of relevance
Accounting, Finance (Stockholm University), Finance (Mittuniversitetet), Interactive design and media (Södertörns högskola), Law (Stockholm University), Various states of consciousness (Skövde University, ongoing), Hindi and the Culture of India (Uppsala University), Psychiatry (Sköve University, ongoing), Social Psychology (Skövde University, ongoing), Psychology: motivation and exercise (Halmstad University, ongoing)
Other courses of relevance
Business/IT (Nackademin), ACT for depression and anxiety, ACT for Trauma (Russ Harris), Nutritionist (Paulun), Lic. Gym instructor (SAFE), Pilates instructor (Gymnastikförbundet), Ayurvedic Yoga Massage (Kumar, Mysore), Thai Massage (Itzhak Helman) Bollywood dancing (Josefin Wikström), Mindfulness (Åsa Åhman)
Yoga courses
Virya Yoga Level 1, Virya Yoga Level 2, Yoga & Ayurveda, Yoga for Seniors, Vinyasa Flow, Therapeutic Yoga, Adjustments, Sequencing, Yoga Philosophy (Nordic Yoga Institute: Josephine Selander, Doug Keller, Sundari Lucy, Åsa Åhman, Helena Wintre, Marian Papp etc)
Vinyasa Flow Level 1, Level 2, Restorative Yoga, Adjustments, Sequencing, Pranayama, meditation etc (Brahmani Yoga: Julie Martin, Melanie Cooper, Helen Noakes, Emil Wendel, Jodi Boone, Rhys Beynon, Anouk Petzholdt, Josefin Wikström etc)
Anusara Yoga, immersions and trainings (with John Friend, Jonas Westring, Neesha Zollinger, Ulla Lundgren, Todd Norian etc.)
Yin Yoga (Ulrica Norberg, Paul Grilley, Sarah Powers, Melanie Cooper, Norman Blair)
Astanga Vinyasa Yoga (Saraswati Jois in Mysore)
Yoga for PTSD (The Minded Institute, Heather Mason)
Yoga for Anxiety (The Minded Institute, Heather Mason)
Prison Yoga (Mumbai, Josefin Wikström)
Trauma Informed Yoga (ongoing, Josefin Wikström)
Yoga Nidra (Uma Dinsmore-Tuli and Nirlipta Tuli)
iRest Yoga Nidra (Richard Miller)
Workshops of relevance 2004 – 2019
Adjustments, Ashtanga Second series, Acro Yoga, Biomechanics, Yoga Philosophy, Yoga for seniors, Chair Yoga, Chakra Yoga, Yin yoga, Pranayama, Meditation, Pelvic Floor, Restorative Yoga, Prana Flow, Inversions, Anatomy workshops, Sequencing, Yin Yoga for Ashtanga, Thai Yoga massage, Yoga & Ayurveda, Acro yoga, Scaravelli, Kundalini, Reflexology, Iyengar Yoga, Jivamukti Yoga, 5 Rhythms, Sacred Dance
Workshop teachers
Julie Martin, Josefin Wikström, Melanie Cooper, Stu Girling, Lisa Dale, Daniel Scott, Ashley Bond, Ulrica Norberg, Neesha Zollinger, Suzee and Paul Grilley, Sarah Powers, Helena Wintre, Josephine Selander, John Friend, Shiva Rea, Sarah Powers, Biff M, Norman Blair, Jonas Westring, Liz Warrington, Emil Wendel, Helen Noakes, David Life, Sharon Gannon, Nathan Gray, Todd Norian, Jonas Klingberg, Jo Cobbet, Anja Bergh, Vinn Marti, Julia Muller etc