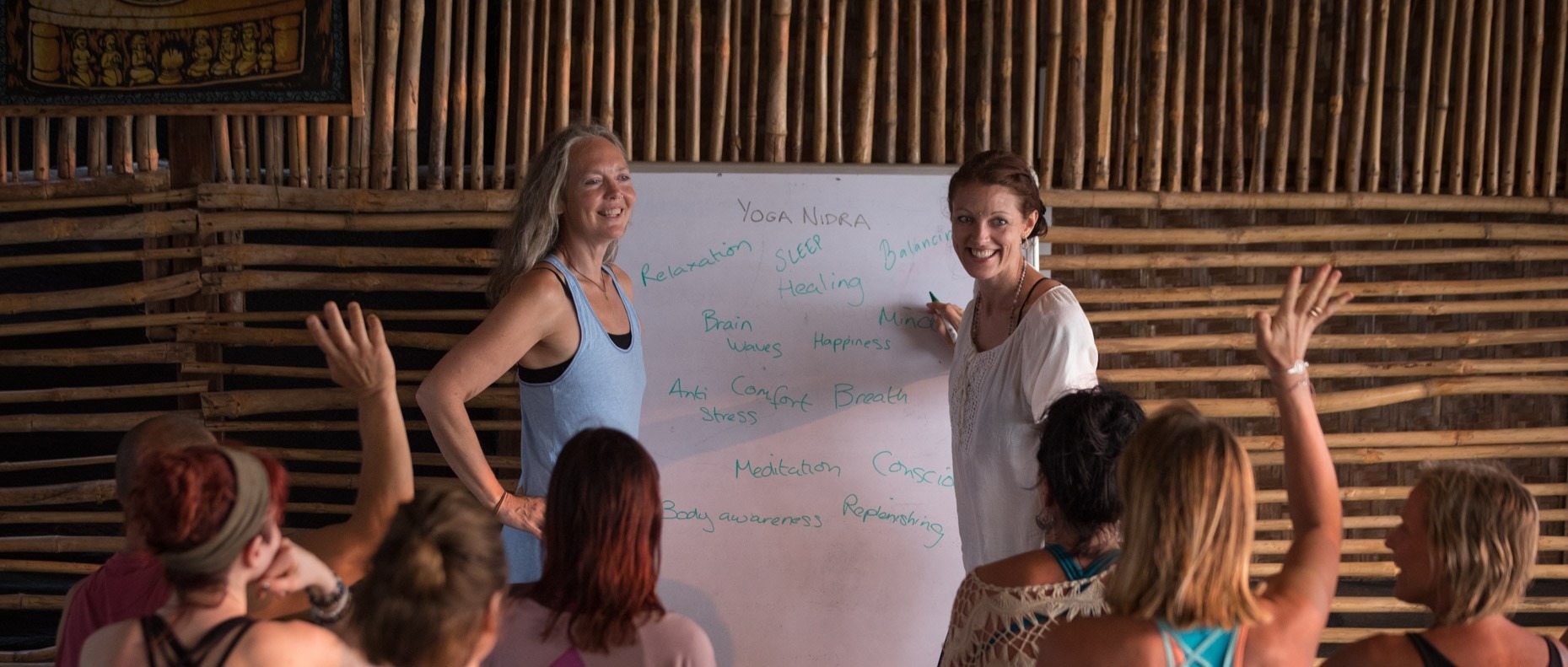 "I highly recommend the Yoga Nidra training with Jennie Wadsten and Melanie Cooper: non-dogmatic, passionate and extensive + at least 2 Nidras a day! Jennie and Melanie have a wonderful way of being and of teaching, providing a safe environment to learn and share."
– Sylvie, France
Monday 1 – Wednesday 3 June 2020


This course will be taught as an interactive webinar online! 
We'll also have a in person meet-up in Stockholm in the autumn for you to meet us IRL as well and get more support, a follow up on how your teaching or practicing has been etc. Date to be announced. 
Monday 1 – Wednesday 3 June 2020
Goldendoor Yoga Studio, Archway, London  
more information and location here >>> 
We recommend that you have done a 200 hour teacher training (any style) but it's not necessary: let us know if you haven't and we will look into what other experiences you have. You can also attend the course for your own self inquiry only: no need to put the pressure on yourself to teach if you don't want to.
The intention is to give you, as a teacher, more tools, to broaden your teaching skills as well as your target groups. Perhaps you have done a training in a dynamic yoga style and would like to add a slow style to your teaching menu as well?
We have a set structure in line with Yoga Alliance's criteria, but on top of that we have a certain amount of hours that we can tailor made for YOU – and as far as we know, this is quite unique: for you, as participants, to be able to take part in forming the course content!
We (Melanie and Jennie) have worked together for over 10 years (yoga teacher trainings and retreats in India and Europe) and have 20+ vs 15 years of experience from teaching yoga and teacher trainings full time.
We have experienced a lot over the years – and what we keep coming back to is how important it is to be authentic, to find "your voice" as a teacher and to have the courage to be YOURSELF when you are teaching! Working as a yoga teacher is amazing – but it also takes a lot of energy – and can be very draining if you are not looking after yourself. (And it's so easy to not give ourselves that time/attention/selfcare – so in the training we will also put emphasis on how to create space for your own health and practice: to stay balanced and mentally strong!
Approx. 9.00 – 17.30 daily, including a one hour lunch break
Early bird price: 5 spaces: £450
Regular price: 9 spaces: £550
Yoga Nidra teacher training manual (included in the price)
Pre-homework: 10 – 20 hours depending on your previous experience of yoga teacher trainings.
Exam: no written tests: you don't have to "prove" anything: rather: we are interested in seeing that you have gained an understanding and knowledge, that you can apply to each individual student depending on his/her needs. You are not attending the course to perform: you are attending it to learn and to spark your interest in embarking or continuing on this fascinating journey as a yoga teacher!
For more details, please send an email to info@yogaleela.se and we'll reply within 48 hrs.
A  deposit of £250 is required initially to reserve your place, with the full balance to be paid 30 April 2020. Please let us know if money is an issue and you need a part payment plan and we'll see what we can do to help. The deposit is non-refundable – but we do know that sometimes things happen in life that you couldn't predict, and if so: you won't get the deposit back BUT if you cancel 1 month before the course at the latest you can use it for other trainings/retreats/workshops with us – so you won't lose the money! Terms and conditions >>>
An invoice for the deposit will be sent to you after we have accepted your application.
Your space is not guaranteed until we have accepted your application and received your deposit. You will receive a confirmation letter from us as soon as your deposit has been received and registered on our account.
Upon completion you will receive a level 2 diploma, Yoga Alliance 30 hrs.  (Zolder Studio, UK, RYS 300).