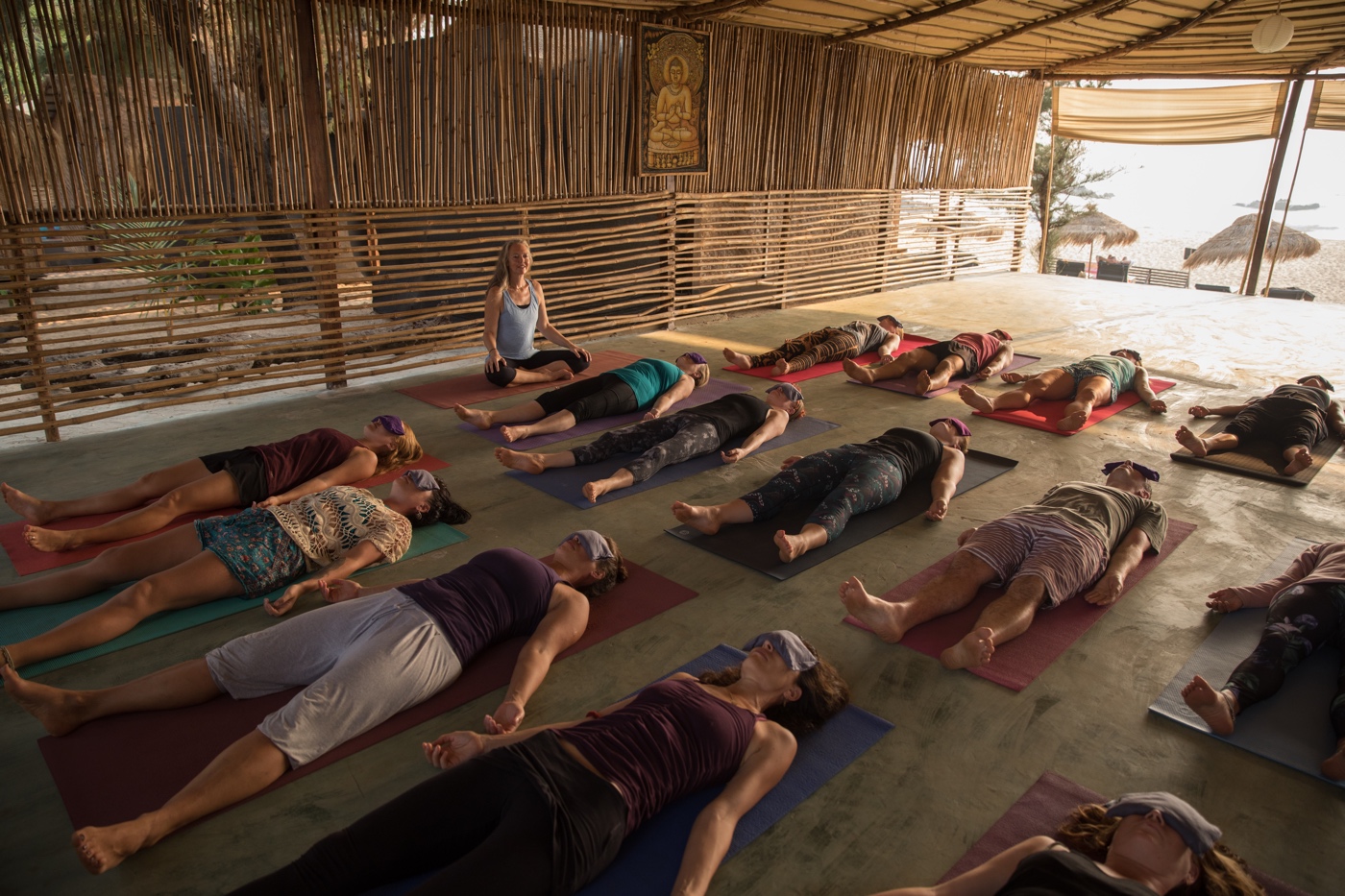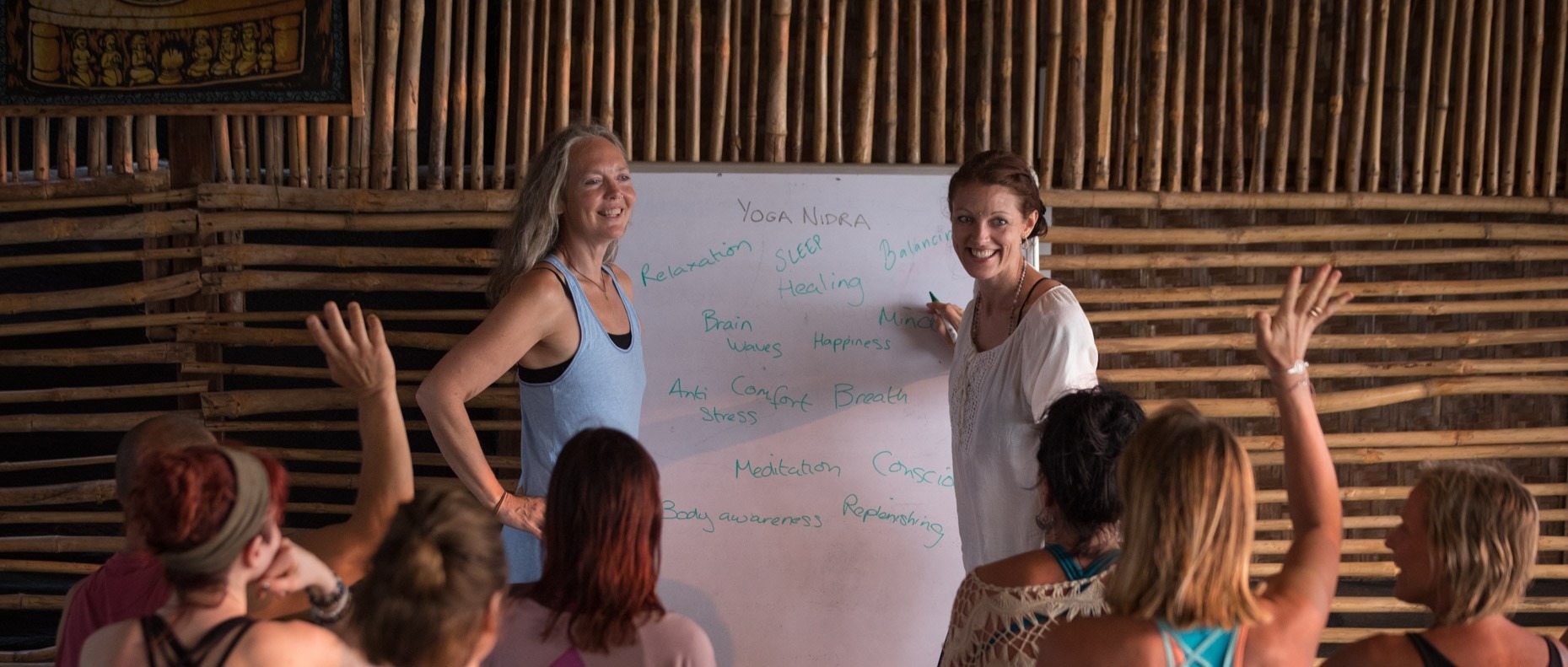 YOGA NIDRA TEACHER TRAINING 4 to 6 SEPTEMBER 2020
Limited offer: €300 (!) discount on the Yoga Nidra teacher training if you sign up for either the Yin Yoga teacher training or the Yoga Retreat as well! 
PLEASE CLICK HERE TO FILL IN THE APPLICATION FORM
PLEASE CLICK HERE TO SEE THE ROOM OPTIONS
A 30 hour diploma in Yoga Nidra, registered by Yoga Alliance (RYS-300)

A tailormade teacher training focusing on what you would like to dive deeper into.

Small group setting: lots of personal attention and feedback.

Plenty of time to reconnect with your own practice, and to recharge if you're feeling drained.

Support from non dogmatic and experienced teachers: the empashis is on empowering you to find YOUR authentic way of teaching yoga nidra and to obtain knowledge to see what is needed for different students; there isn't one size fits all for this practice (or any style really!)

Chance to practice tea

ching with expert constructive and supportive feedback

Healthy food and beautiful accommodation.
4 – 6 September 2020
Can Limon, Ibiza: more information will be published soon. (See photos here)
We recommend that you have done a 200 hour teacher training (any style) but let us know if you haven't and we will look into what other experiences you have.
The intention is to give you, as a teacher, more tools, to broaden your teaching skills as well as your target groups. Perhaps you have done a training in a dynamic yoga style and would like to add a slow style to your teaching menu as well – to be able to teach back to back classes at studios and retreats?
We have a set structure in line with Yoga Alliance's criteria, but on top of that we have a certain amount of hours that we can tailor made for YOU – and as far as we know, this is quite unique: for you, as participants, to be able to take part in forming the course content!
We (Melanie and Jennie) have worked together for almost 10 years (yoga teacher trainings and retreats in India and Europe) and have 20 + 13 years of experience from teaching yoga and teacher trainings full time.
We have experienced a lot over the years – and what we keep coming back to is how important it is to be authentic, to find "your voice" as a teacher and to have the courage to be YOURSELF when you are teaching! Working as a yoga teacher is amazing – but it also takes a lot of energy – and can be very draining if you are not looking after yourself. (And it's so easy to not give ourselves that time/attention/selfcare – so in the training we will also put emphasis on how to create space for your own health and practice: to stay balanced and mentally strong!
A non-dogmatic approach. We will cover the main techniques and modern schools of Yoga Nidra and what they offer. You'll get the chance to compare and explore different methods to see which works the best for you. 

Yoga Nidra scripts. Online resources: You'll get ready made scripts in different methods. Together we will also explore and develop a treasure trove of ideas and scripts for teaching your own yoga nidra – as well as incorporating it in your own practice. 

The structure A detailed look at each stage of the practice; the intention behind it and how it affects the body and mind.

Modifications. Contra-indications. How to adapt your teaching for different students 

Basic science of Yoga Nidra. Brainwaves, Hypnagogia, Basic anatomy of the brain, states of consciousness

History and Philosophy

Stress

Your own practice
Tea, coffee, light snack (optional)
Slow Flow (optional)
Yoga Nidra
Brunch
Theory
Yoga Nidra
Lunch and free time
Theory
Dinner
Various prices depending on your option:
Offsite (accommodation not included) or onsite: various room options in different price ranges.
ON SITE (accommodation included)
| | |
| --- | --- |
| PRICE | Combination offer* |
| Triple 750 | 450 |
| Twin 850 | 550 |
| Single 1050 | 750 |
*If you book either the Yin course or the Yoga Retreat as well you're getting a €300 discount on the Yoga Nidra course.
Installments are possible.
Please note that this price INCLUDES the course, food and accommodation. All you have to think of is to buy a flight ticket to Ibiza (which is very cheap!) and we can arrange a taxi to pick you up at the airport.
The course is organized by We Are Wholistic.
Included in the price:
Yoga Nidra diploma 30 hrs Yoga Alliance (www.yogaalliance.org)
Accommodation 3 days
Healthy food (full board) by an award winning chef
OFFSITE (accommodation not included) 
Offsite options available for residents of Ibiza. Price TBA
Please contact us for details: info@yogaleela.se
Included in the price:
Yoga Nidra diploma 30 hrs Yoga Alliance (www.yogaalliance.org)
Healthy food (half board) by an award winning chef
It's super easy – and cheap!
All you need to do is to buy a flight ticket to Ibiza.
The airport is only 20 minutes away from the retreat center!
(Taxis are about 30 € and can take 3 people with luggage. We're happy to help you with taxi bookings.)
Yoga Nidra Teacher training manual (will be given to you in Ibiza)
Pre-homework: 10 – 20 hours depending on your previous experience of yoga teacher trainings.
Exam: no written tests: you don't have to "prove" anything: rather: we are interested in seeing that you have gained an understanding and knowledge, that you can apply to each individual student depending on his/her needs. You are not attending the course to perform: you are attending it to learn and to spark your interest in embarking or continuing on this fascinating journey as a yoga teacher!
General information about the retreat villa
Can Limon is situated in the countryside close to San Carlos, a rather small but very well-known village north of Santa Eulalia. San Carlos is still a meeting point for hippies and home to a surprisingly rich cultural scene. The Ibiza beaches around San Carlos are divine. Imagine a world of crystal clear waters, sunshine bathed serenity and stunningly dramatic coastlines and you're getting the idea. It's a million metaphorical miles away from the hustle and bustle of Ibiza's larger resorts but it is, however, close enough to Santa Eulalia to be within easy reach of a huge variety of restaurants, bars and shops, should you fancy a dip into the local cultural scene.
Surrounded by nature Can Limon offers a truly Ibizan experience. With lemon groves and the vivid red lands of the Ibizan countryside and distant views to the sea, this spacious private home offers the perfect opportunity to relax within a deeply peaceful environment.
We have a beautiful raised yoga deck nestled amongst the trees, with built in seating next to the platform for journalling and reflection time. The deck comfortably holds up to 20 yogis.
There is a second 60sqm outdoor yoga deck made from untreated nordic pine wood with a structure that is suitable to hang yoga hammocks. In case of bad weather (which happens even in Ibiza!), worry not. Although we don't have a dedicated indoor studio our luxurious and cozy lounge can quickly be transformed into the most beautiful yoga space with plenty of room for all stretches and bends.
Further our team are there to ensure candles will be lit alongside the music of your choice to create the most relaxing environment. And even when it rains (or storms) our wall-to-wall glass fronted lounge, with fireplace and underfloor heating looks out over beautiful campo views, whilst you can remain cosy inside.
A  deposit of 300€ is required initially to reserve your place, with the full balance to be paid 31 March 2020. Please let us know if you want to pay in instalments and we can arrange for another due date as well, 30 June 2020, and if that is also tricky, we can look into more options.
How to sign up:
1) Fill in the application form
2) We will get back to you within 24 hrs. Please make sure that we need to approve your application before you book a room. 3) As soon as you have received the confirmation letter from us, please go ahead and choose which room you´d like to book
4) You´ll get a booking confirmation sent to your email straight, and within 48 hrs you´ll also get an invoice for the deposit, €300.
5) As soon as you have paid the deposit, your space is guaranteed.
For questions, please send an email to info@yogaleela.s
Upon completion you will receive a level 2 diploma, Yoga Alliance 30 hrs.  (Zolder Studio, UK, RYS 300).
PLEASE CLICK HERE TO FILL IN THE APPLICATION FORM
The course is organized by We Are Wholistic