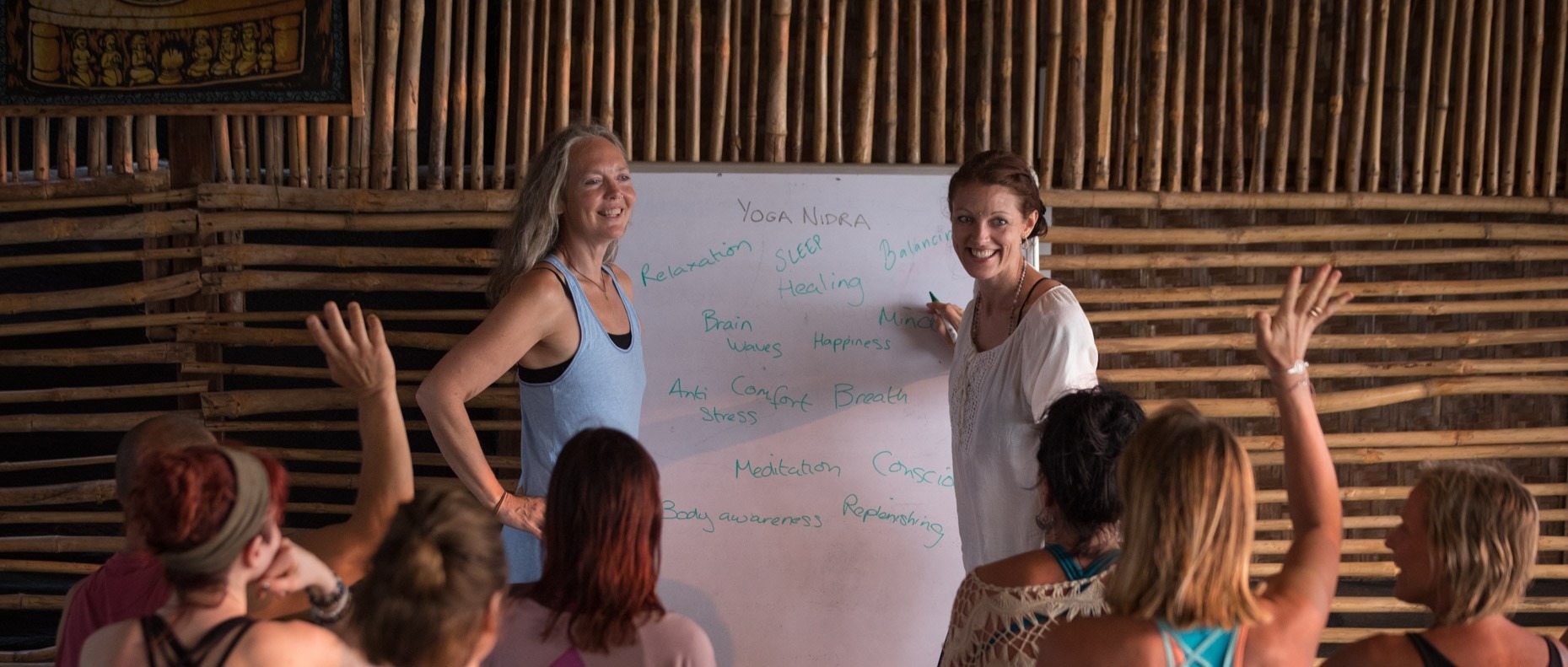 Friday 9 – Sun 11 October 2020
"I have just spent 3 vibrant, full on days learning to teach Yoga Nidra with two amazing and knowledgeable teachers Jennie Wadsten and Melanie Cooper.
They were so compassionate, non judgmental and put the whole class in a safe and respectful place to learn and absorb Yoga Nidra.
They made the process of learning to teach with such enthusiasm and of giving their whole to us all.
Jennie with her lively and happy encouraging personality complemented Melanies calm, gentleness that gelled so well + the dancing.
Such knowledge and experience they both shared with us all, including a very informative manual and handouts.
I highly recommend attending their courses, you will not be disappointed and will learn and develop to teach in the future."
– Jen, UK
Spaces are limited so make sure you don´t wait too long with your booking: all the nidra courses get fully booked quickly!
A 30 hour diploma in Yoga Nidra, registered by Yoga Alliance (RYS-300)

A tailormade teacher training focusing on what you would like to dive deeper into. Tell us what you are interested in and we will weave it into the training or make it part of your individual homework. 

Plenty of time to reconnect with your own practice, and to recharge if you're feeling drained.

Support from non dogmatic and experienced teachers: the empashis is on empowering you to find YOUR authentic way of teaching yoga nidra and to obtain knowledge to see what is needed for different students; there isn't one size fits all for this practice (or any style really!)

Chance to practice tea

ching with expert constructive and supportive feedback
Friday 9 to Sunday 11 October 2020
Lisbon Yoga Institute  more information and location here >>> 
We recommend that you have done a 200 hour teacher training (any style) but it's not necessary: let us know if you haven't and we will look into what other experiences you have. You can also attend the course for your own self inquiry only: no need to put the pressure on yourself to teach if you don't want to.
The intention is to give you, as a teacher, more tools, to broaden your teaching skills as well as your target groups. Perhaps you have done a training in a dynamic yoga style and would like to add a slow style to your teaching menu as well?
We have a set structure in line with Yoga Alliance's criteria, but on top of that we have a certain amount of hours that we can tailor made for YOU – and as far as we know, this is quite unique: for you, as participants, to be able to take part in forming the course content!
We (Melanie and Jennie) have worked together for over 10 years (yoga teacher trainings and retreats in India and Europe) and have 20+ vs 15 years of experience from teaching yoga and teacher trainings full time.
We have experienced a lot over the years – and what we keep coming back to is how important it is to be authentic, to find "your voice" as a teacher and to have the courage to be YOURSELF when you are teaching! Working as a yoga teacher is amazing – but it also takes a lot of energy – and can be very draining if you are not looking after yourself. (And it's so easy to not give ourselves that time/attention/selfcare – so in the training we will also put emphasis on how to create space for your own health and practice: to stay balanced and mentally strong!
A non-dogmatic approach. We will cover the main techniques and modern schools of Yoga Nidra and what they offer. You'll get the chance to compare and explore different methods to see which works the best for you. 

Yoga Nidra scripts. Online resources: You'll get ready made scripts in different methods. Together we will also explore and develop a treasure trove of ideas and scripts for teaching your own yoga nidra – as well as incorporating it in your own practice. 

The structure A detailed look at each stage of the practice; the intention behind it and how it affects the body and mind.

Modifications. Contra-indications. How to adapt your teaching for different students 

Basic science of Yoga Nidra. Brainwaves, Hypnagogia, Basic anatomy of the brain, states of consciousness

History and Philosophy

Stress

Your own practice
Approx. 9.00 – 17.30 daily, including a one hour lunch break
PRICE:
Early bird price until 9 August 2020: €450
Regular price:  €550
Yoga Nidra teacher training manual (included in the price)
Pre-homework: 10 – 20 hours depending on your previous experience of yoga teacher trainings.
Exam: no written tests: you don't have to "prove" anything: rather: we are interested in seeing that you have gained an understanding and knowledge, that you can apply to each individual student depending on his/her needs. You are not attending the course to perform: you are attending it to learn and to spark your interest in embarking or continuing on this fascinating journey as a yoga teacher!
A  deposit of €250 is required initially to reserve your place, with the full balance to be paid 13 April 2020. Please let us know if money is an issue and you need a part payment plan and we'll do our best to help. The deposit is non-refundable – but we do know that sometimes things happen in life that you couldn't predict, and if so: you won't get the deposit back BUT if you cancel 1 month before the course at the latest you can use it for other trainings/retreats/workshops with us – so you won't lose the money! Terms and conditions >>>
Account details for the deposit will be sent to you after we have accepted your application.
Please note that your space is not guaranteed until we have accepted your application and received your deposit. You will receive a confirmation letter from us as soon as your deposit has been received and registered on our account.
Upon completion you will receive a level 2 diploma, Yoga Alliance 30 hrs.  (Zolder Studio, UK, RYS 300).
For more details, please send an email to info@yogaleela.se